by Jeffrey Ross
Freelance Accreditation and Potluck Expert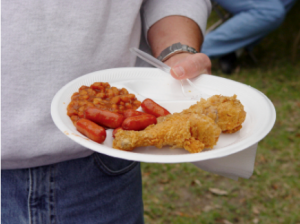 A spokesman for the Highbrow Learn-ed Commission revealed in a report published by the Chronicle of Post Secondary Ed last week that Food, especially non-curricular or nutrient-specific culinary preparations, would become a Distinctive Criterion subject to increased scrutiny on all community college accreditation applications. Effective Boxing Day, December 2012, colleges seeking Highbrow accreditation must henceforth demonstrate how Food fits into their strategic visions, core values, mission statements, assessment plans, curricula and feedback loops.
Dr. Tusk Manger, a reviewer and taste-tester for the Highbrow Learn-ed Commission and Professor of Psychology at Nebraska State University-Aurora, revealed the results of a longitudinal super-sized study conducted by Dr. Jeffrey Roz, Hamilton State University, and Dr. Jann M Kontento, Copperfield Community College. The report detailed and robustly analyzed food preparation, recipe discussions, and email baked goods notifications at 36 benchmarking institutions.
?Just think Potluck!? said Dr. Manger. ?The Roz & Kontento study found community college staff spend about 65 percent of their salaried work day preparing for potlucks, grazing, sharing recipes, emailing notifications about dessert needs at division meetings, chatting over hummus or quiche in the faculty lounge, planning bake sale fund raisers for partnering organizations and orchestrating classroom ?cultural? studies which mandate at-risk eating activities. Of course the Roz & Kontento study has nothing to do with culinary arts, snack bars, dietetic education, nutrition programs, institutional cafeterias or even common brown bag lecture series events. Those boys have discovered that hard-core paper plate beanie-weenie concoctions and crockpot food?especially at division meeting potlucks?may represent a significantly overlooked part of every community college?s curricula. Eating is the best practice at all community colleges. Ask any secretary about his obsession with Chocolate! Strangely enough, Chef Johil, a grad student working with Roz & Kontento, discovered (using Cue-Foodist text-analysis software) that the word Potluck appears in 41 percent of all email subject headings at one community college in western Phoenix.?
Manger went on to explain that Roz & Kontento also discovered that 37 percent of all the benchmarking college emails contain some reference to pies, cheesecake, left-over mushroom pizza, bagels, garbanzo beans, COM 209 ethnic awareness potlucks, donuts in the dean?s office or ?almost-gone? sliced summer sausage and cheese snacks remaining from a governing board meeting.
?It is time the Highbrow Learn-ed Commission better understands how Food influences the teaching/learning process at our postsecondary institutions,? said Manger. ?Several Highbrow Learn-ed Commission leaders from the State University of South Central Ohio Residence Life staff will develop our new Food Best Practices Consensus Systems Analysis and Appraisal for accreditation applications. And we will be funding the development for our new accreditation guidelines with monies obtained from a Federal Department of Fast Food Restaurants Title 5000 Calories Grant awarded by Dr. Jill Biden and First Lady Michelle Obama.?
Next Week?the Highbrow Commission investigates rumors concerning a three-week online EdD in Hummus Recipes Leadership program in Austrich, Texas

Source: http://www.cronknews.com/2012/11/13/accreditation-commission-determines-potlucks-must-be-assessed/
real housewives of atlanta colton bo ryan the last waltz earth day activities mel gibson splunk